An event to support the Against the Storm Foundation
Held on: February 26, 2022
See you next year!
6th Annual Rock For The Cure
The 6th Annual Rock for the Cure on Saturday, February 26 at The Tralf really rocked!
Thanks In large part to the support and the generous funding we received from our many sponsors, this year's event raised a record $22,765.
Meghan Benimoff and her son, Desmond, were the stars of the show. Between outstanding performances by Mom Said No and The Kensingtons, Meghan told those attending her story; from first learning her young son had Leukemia, to Des ringing the victory bell at Roswell Park.
The Against the Storm Foundation exists to help fight blood cancers and support other causes that will improve the health and quality of life for people in need.
Last year, the foundation provided financial support to establish the LLS Western NY Pediatric Travel Assistance Fund to assist families such as Meghan and Desmond.
Matt Connors, vice president of development at Sinatra and Company Real Estate, and Lauren Hall, from WGRZ-TV, co-hosted the event and served as emcees for the evening.
Special thanks to the Western New York media for helping to promote this year's event.
Rock for the Cure began in 2015 as a fund raising idea created by Tom Lillis and Joe Nicastro. Both Tom and Joe have served on the Board of Trustees of the Western and Central New York Chapter of the Leukemia & Lymphoma Society and are members of the band, the Kensingtons, a classic rock/Americana band. They viewed the concert as a great opportunity to raise money for Charity, and with the generosity of many local musicians, corporate sponsors, as well as Tom Barone, who donated the Tralf Music Hall, the first concert was a huge success. This is now an annual event with past performances by The Kensingtons, Ron Hawkins, Strictly Hip, Grace Stumberg Band, The Nicastro Brothers, and K-Ride.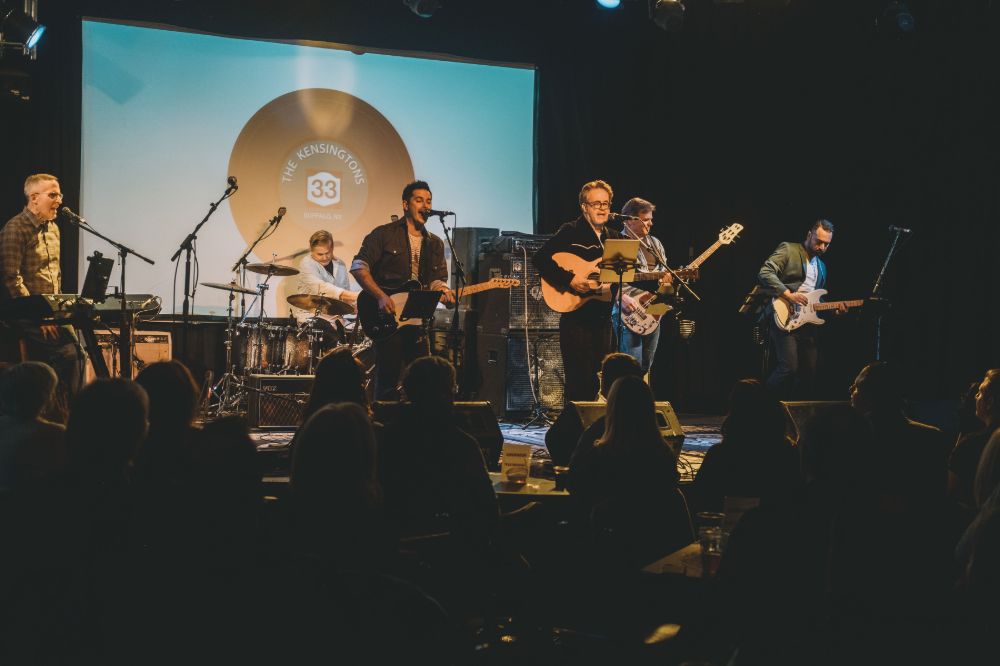 Proceeds from the Rock for the Cure concert will help the Against the Storm Foundation further its mission to raise funds to help fight blood cancers and support other causes that will improve the health and quality of life for people in need.
Hosting this year's event was Matt Connors, Vice President of Development at Sinatra and Company Real Estate and Lauren Hall, local TV personality.
The Against the Storm Foundation, Inc. has announced Rock for the Cure performances by the Kensingtons and Mom Said No. The Kensingtons, the Sportsmen's Americana Music Foundation 2018 Band of the Year featuring three members of the Foundations Board of Directors – Tom Lillis, Joey Nicastro, and Jack Freedenberg joining the Kensingtons will be special guests Frank Nicastro of the Strictly Hip, and Julie Lang.
Mom Said No is a Buffalo-based group of talented musicians that is known for its high energy live performances. The band has perfected its own brand of alternative pop.